The clouds have parted and the warm weather is here! Here's our guide for what to see and do around Copenhagen this month.

1. Geyser By the Sea
6th May – 2nd September (every Friday)
Kulturhuset Islands Brygge

Celebrate sunshine, sea and the beginning of the weekend at Island's Brygge with free weekly Friday outdoor concerts by the harbour. The May/June programme features touring singer / songwriters, experimental indie pop, solid blues rock and soulful bluegrass from home and abroad. The first concert starts Friday 6th May at 16:00 featuring Richard Farrell and Karen Kousgaard.
2. Elsie and Norm's Macbeth
4th-17th May (in English)
A Touch of Vintage

Copenhagen's newest theatre company Down the Rabbit Hole presents an immersive theatre production with a comical re-telling of Shakespeare's Macbeth. Elsie and Norm invite you into their living room for tea and a little culture – in a unique site-specific location under the vintage clothing store "A Touch of Vintage" in the heart of Copenhagen.
3. Inside Out Three Sisters – 6 Acting Students in Search of Chekov
20-25th May (in English)
Basement

After seeing the brilliant production of The Three Sisters by CISPA at Christmas, we can't wait to see this retelling through the eyes of it's minor characters: the maids, the musicians, the chef, the door keeper, and the actors playing them. They perform a play behind the play, where re-enacted scenes from the original intertwine with these characters' and actors' rituals and enterprises, which reveal that they endure their absurd predicaments, the regrets of the past and the illusions of the future.
4.
Click Festival
20-22nd May
Helsingør (selected events in English, or non-verbal)

CLICK embraces the future by exploring the field between art, science and technology during a three day festival in the picturesque harbour of Helsingør. We're particularly excited by a performance in the great old shipyard hall – HAL 14 – which becomes the stage for the masterpiece Music in Twelve Parts performed by Philip Glass and The Philip Glass Ensemble.
5.
The Guilty Feminist
May 22nd (in English)
Comedy Zoo

Ever felt like you ought to be better at feminism?
Join comedians Sofie Hagen and Deborah Frances-White for their new comedy podcast, recorded in front of a live audience. Each week Sofie, Deborah and a special guest discuss topics "all 21st century feminists agree on" while confessing their insecurities, hypocrisies and fears that underlie their lofty principles.

CulturePie's Culture Club!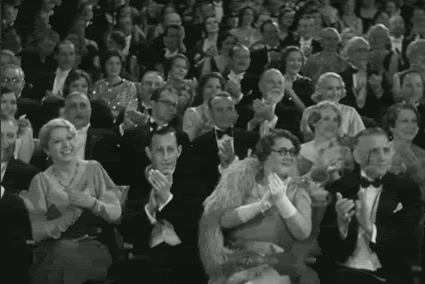 Want to meet more people interested in theatre, music and cultural events? Join our monthly get-together – to meet up and go to a performance together! The performances are in English, or non verbal, and if you are interested, click here for updates or email carol@culturepie.dk for details!